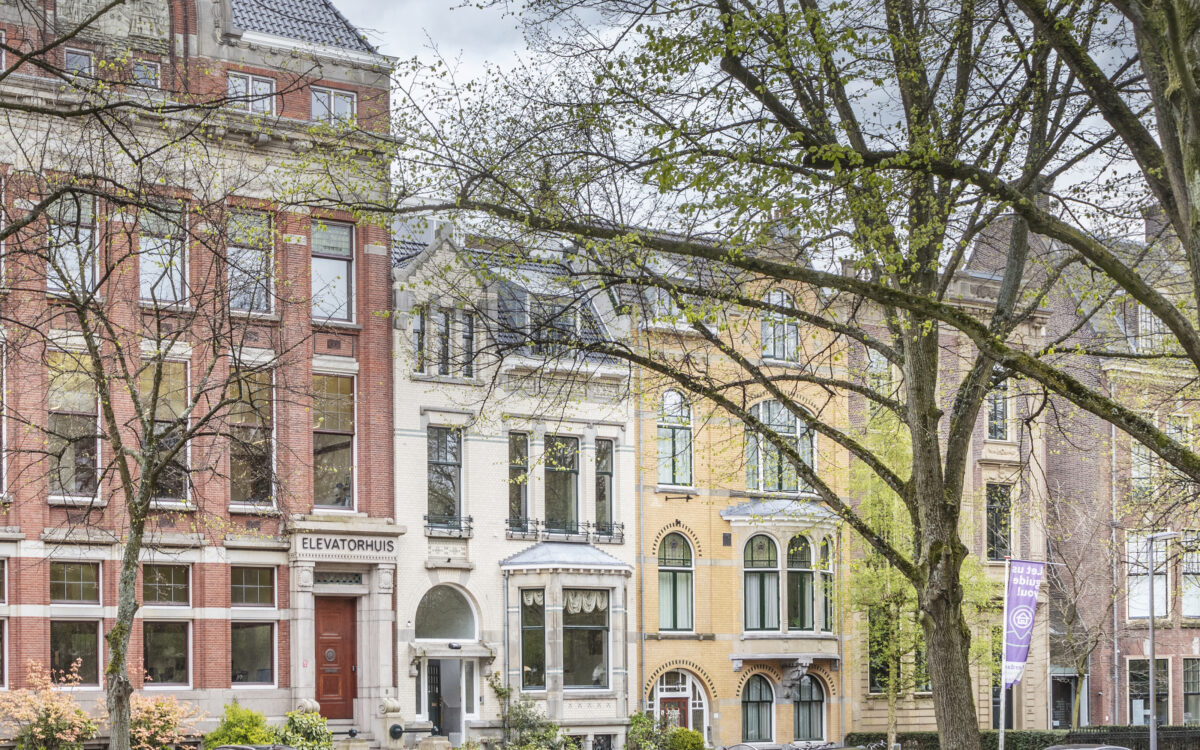 On the historic Parklaan in Rotterdam we have completed a special project in recent months. Two stately buildings underwent a transformation and renovation. The urban villa on Parklaan 10 and the building on Parklaan 12 are protected urban views. They were once connected to the Elevatorhuis on Parklaan 8 in order to house the offices of the DHB bank. The attractive buildings have now been returned to their original state – naturally sustainable, having been upgraded to the energy label B.
JUGENDSTIL VILLA
The former Jugendstil villa at number 10 was originally designed in 1909 by architect Johannes Verheul Dirkszoon. In the first design, Parklaan 12 would be transformed into a urban villa. Apartments were to be built at number 10. Until, during renovation work on Parklaan 10, we came across a number of historic ceilings. The removal of these – for the fire separations between the apartments – would of course be a shame.  The functions of both buildings were therefore swapped.
RENOVATION OF THE URBAN VILLA
Parklaan 10 was restored to a urban villa after all. The attractive building has four floors in total. The top floor offers a beautiful open space with a high-gloss wooden ceiling and a roof terrace with panoramic views of the city. During the renovation many special details were revealed, such as a stylish marble staircase which had been bricked up. The staircase is now back in its original state. The original portico functions once again as the entrance to the urban villa. Thanks also to the restoration of the decorative work and the replacement of the synthetic window frames, Parklaan 10 once again exudes its glorious atmosphere.
HISTORIC DETAILS OF PARKLAAN 12
In the building on Parklaan 12, a typical office layout made way for eight attractive and small-scale apartments. We have restored various historical elements, including the original porch entrance and the façade with its wooden frames. The roof light has also been returned to its original state. As a result, the stairwell receives plenty of daylight again. In addition, the basement now offers communal storage spaces and a laundry facility for the eight apartments.
ENERGY LABEL B
We have made both buildings sustainable. Without losing their historic character. The windows have been thermally improved. The roof and facades were insulated. In addition, we modified the installation principle. As a result, Parklaan 10 and 12 both went from energy label H to B.
PARKLAAN AREA
The area is one of the few historic locations in Rotterdam that remained intact during the war. The Elevatorhuis at number 8 also contributes to the allure of Parklaan. We previously transformed this young monument into a sustainable multi-tenant business building with a glorious historic meeting room. As a firm, we have a very special bond with this place. The building was designed over 100 years ago by Michiel Brinkman, one of the predecessors of our firm.
Would you like read more about this project? Then visit our project page.