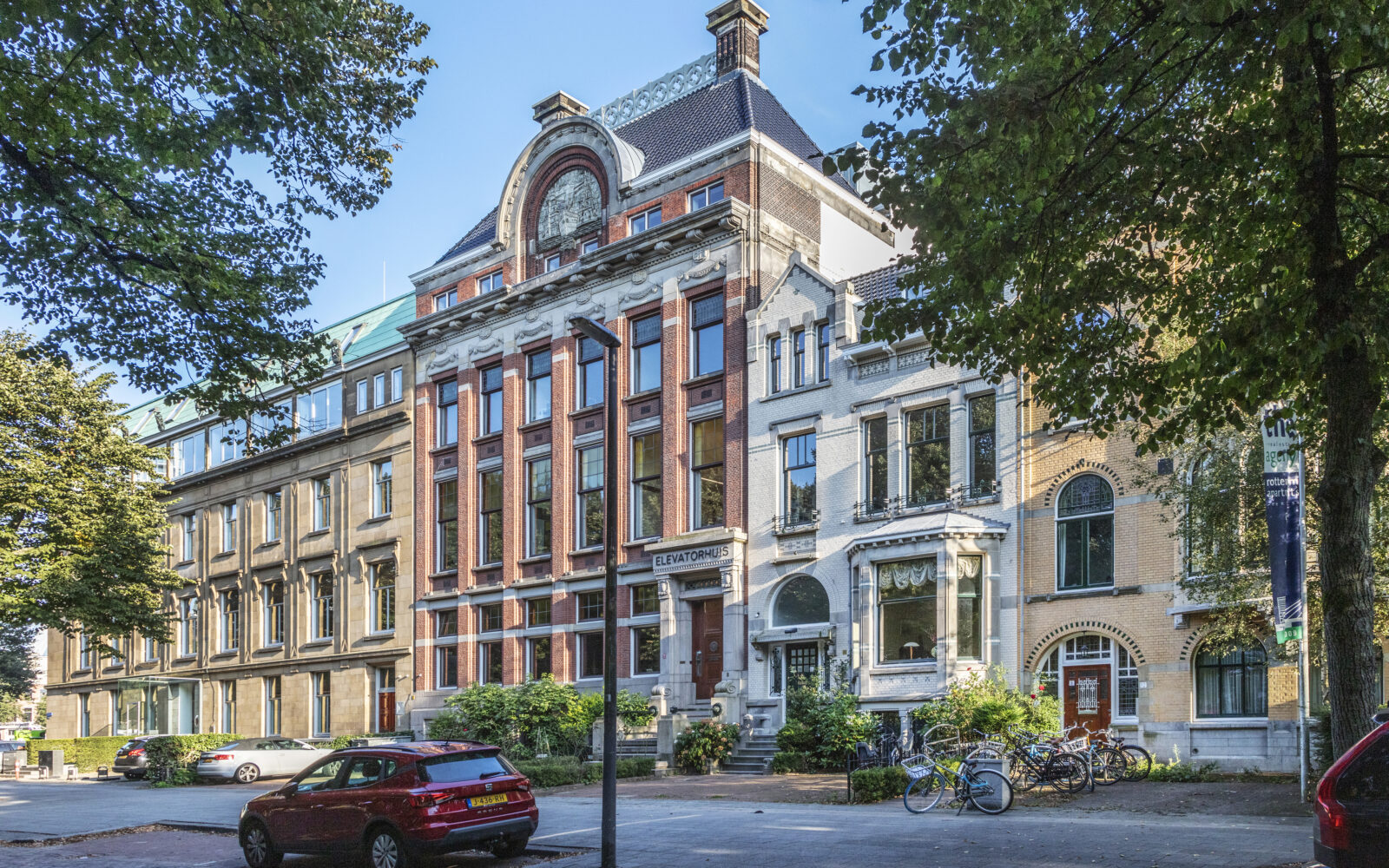 National Monument 'Elevatorhuis' Parklaan
Rotterdam, The Netherlands
2017-2019
On Parklaan 8 in Rotterdam lies the State Monument 'Het Elevatorhuis', designed by Michiel Brinkman and built between 1914-1915. Until recently the building was in use by a bank in conjunction with two adjacent buildings. Broekbakema has brought this young monument back to its old glory and has upgraded it from energy label G to A as a future-proof multi-tenant office building.
The building was designed in the 'Um 1800 style' for the 'Graan Elevator Maatschappij (GEM)' that specialized in the mechanical transport of wheat. It consists of a souterrain and basement, a calling floor and a first floor with the most historical rooms and furniture. The second and third floor wrap around a central light well that has been brought back to its original condition and contains a flexible set of office spaces. A staircase connects the extra office spaces under the roof, where a single large attic window offers a breath-taking view of the Maas river. A vault with stained glass that was closed off for many years is now covered by a walkable glass floor, allowing for daylight and space to come back to the core of the building.
The Elevatorhuis was very innovative for its time; an elevator and central heating provided for much comfort. Stained glass and a relief on the facade showed the activities and status of the company. These have been restored, while original tilework inside has been brought back in sight. Damage to the tiles was taken as a characteristic value of the building. In contrast to the first three floor that were finely decorated with wood, in the upper floors much of the original elements were lost. Therefore these floors and added spaces are now clearly distinguishable from the historic building elements due to their neutral colour scheme.
To make this young monument future-proof, sustainability was an important aspect of the design. The original stained glass in the facade is now backed by clear glazing for insulation, while all other glass has been replaced with HR++ windows. For the monumental appearance, the outermost pane of these windows has been made of drawn glass. Together with improved airtightness, a well-insulated roof and internal insulation on the upper floors a robust thermal envelope has been created without covering the original design. The usage of heat recovery ventilation with CO2 control and fan coil heating/cooling units allows for the creation of a pleasant and healthy indoor climate. From a building physics point of view the building was treated as new-build, meaning no concessions were done in terms of comfort. With these measures we were able to transform this young State Monument to a sustainable and comfortable multi-tenant building while bringing back its original design.
Click here to visit the website of the Elevatorhuis.
Architect:
Ir. Meindert Booij
Marius Voets MArch
Ir. Sandra K. Sanchez de la Garza
Technical Designer:
Bouke den Ouden