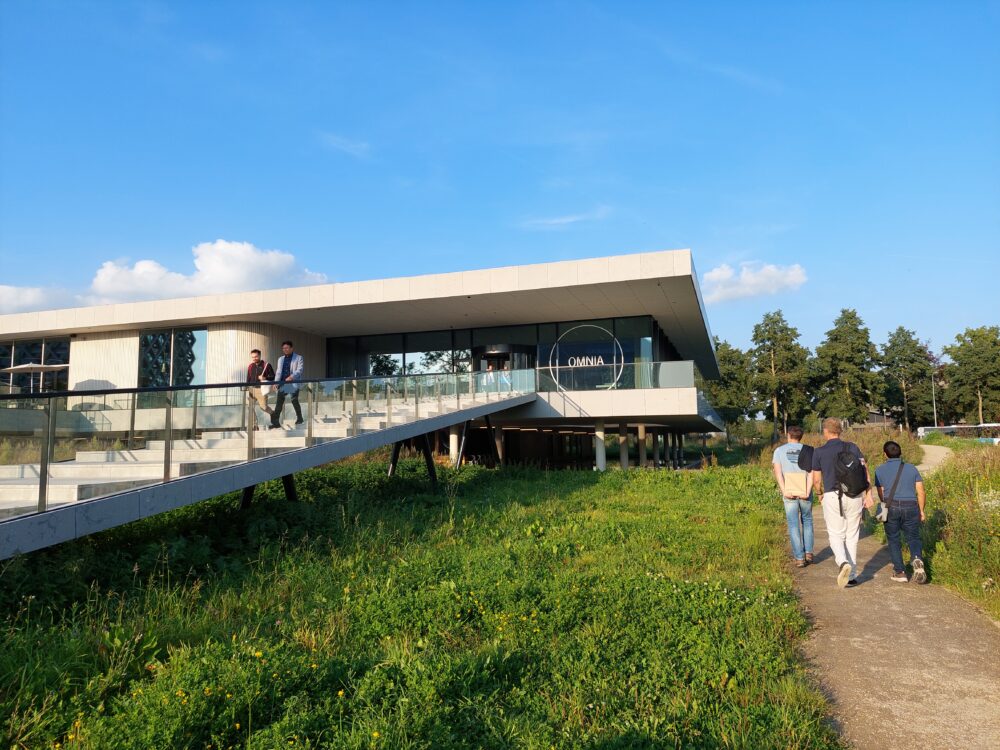 For an architect and client, there is nothing as beautiful as witnessing a building come to life. This year, sustainable buildings are sprouting up all over the Netherlands. So, our entire team hopped on a bus to visit the construction and completion of our latest 'gems.' It is a popular outing because sometimes colleagues work together on a project for years.

CONSTRUCTION HELMETS ON FOR NEW SCHOOL
First stop? The Ashram College in Alphen aan den Rijn. We put on our construction helmets and safety shoes because construction is in full swing. As chief architect, Renze Evenhuis wanted to create a building with spaces where students feel secure: 'The school is therefore designed as a street with a central meeting place but also smaller zones around it, so students can learn quietly and feel comfortable.' After a tour of the construction site, it is immediately clear to everyone how the building forms a unity with the neighborhood through the schoolyard. We know from experience in Nieuwkoop how this end result works out in practice.
Read here more about this project.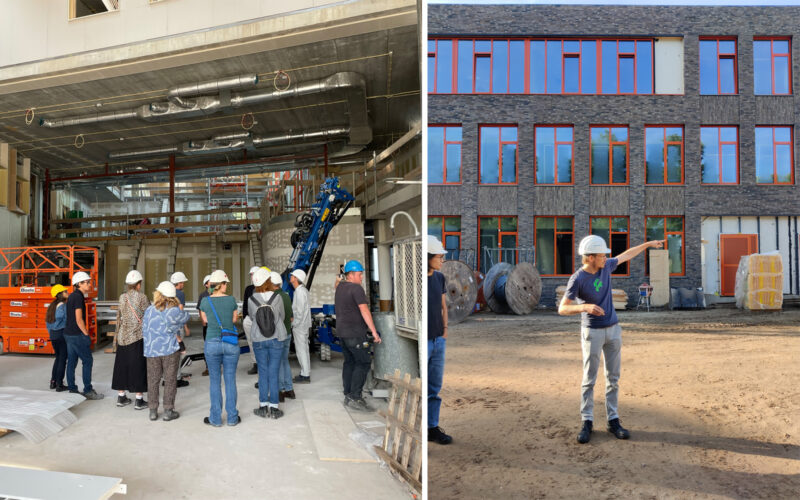 SMART SPACE MANAGEMENT
We had designed a building for Ashram College before, so on to Nieuwkoop. A nice reminder for everyone; we walk through this school, we feel how inspiring it is to walk through your own design. You start with a sketch and work mostly on the screen. Each colleague takes on a part of it, and there is nothing like experiencing the building together in person. School corridors are a thing of the past, and Renze explains why he prefers to use that space for study zones: 'Corridors take up a lot of space, and such zones feel much more open. The building opens up so much more to the outside with light, air, and space.'
Read here more about this project. 
TIMELESS URBAN BUILDING
We aim to make all our buildings as flexible and sustainable as possible. Timeless, as we call it ourselves. Whether we succeeded or not, you only know afterwards. Therefore, for our third stop we  visit Utrecht, where we visit a twenty-year-old commercial building, at the time with the company Kropman as its first 'occupant'. We see the strength of concrete floors without finishing layers and hardboard as the finishing. Erik van Eck guides us through the building because he made the design. He proudly draws only one conclusion: 'The fact that another tenant is now using the same building satisfactorily makes it successful for me. This, too, is sustainability.'
Read here more about this project.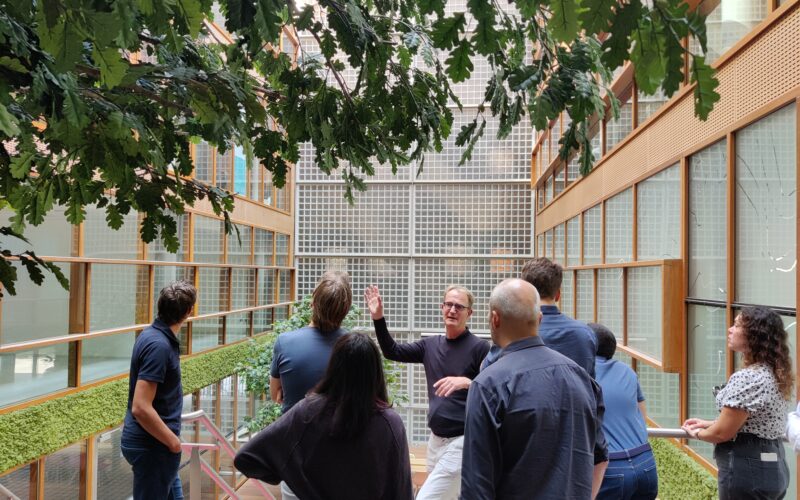 INVITING INTERIOR FOR MEETING CENTER
With our buildings, we aim to create places for communities. The interior has a pivotal role. Our interior architect, Tessa Barendrecht, knows all about that. On the fourth stop, she takes us to the meeting center of the Protestantse Kerk Nederland. It's a remarkable piece of work. The materialization has been carefully considered and the users appreciate it. Tessa knows why; 'People really find it a very pleasant place to have meetings thanks to the bright spaces and the atmosphere of the meeting rooms.'
Read here more about this project. 
WAGENINGEN SPOT FOR DIALOGUE
After a stop at a other sustainable building (we like to get inspired), we conclude our 'roadshow' with satisfaction on the Wageningen University & Research campus. Erik van Eck is delighted to show us the Omnia building. The brand-new place for dialogue between science and society was designed by him and the team. Omnia is elevated in a natural landscape, natuur-inclusive and almost floating. We are impressed, and on the way back, something comes to his mind: 'You cannot design anything more beautiful than nature.' That's what we aim for with all our buildings. Timelessly sustainable.
Read here more about this project.