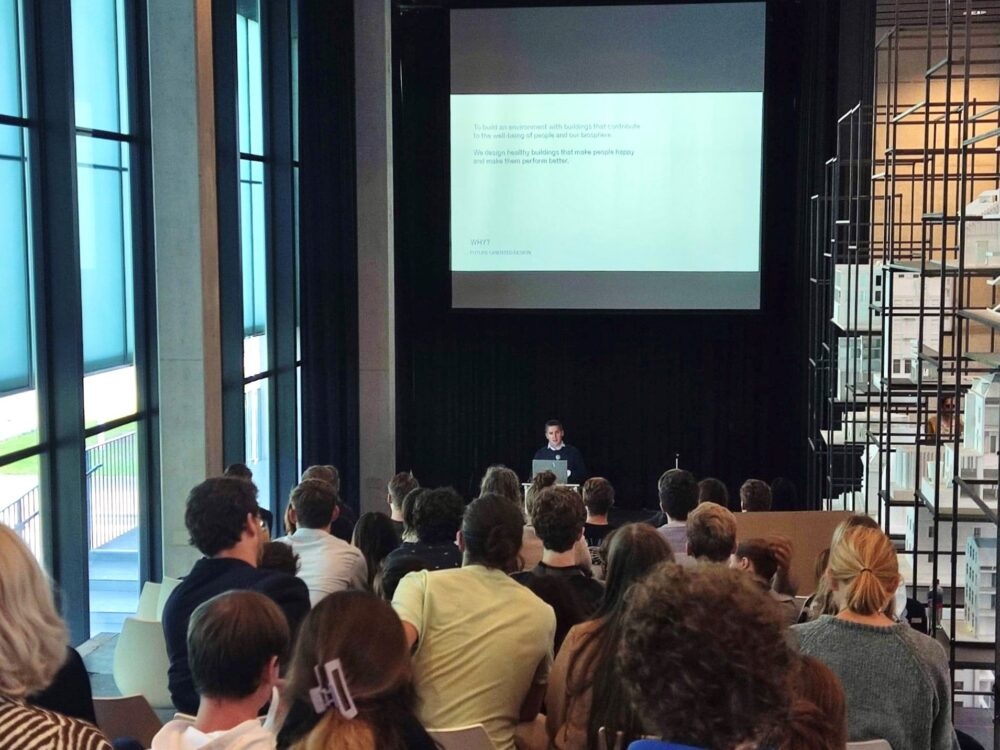 Twelve years ago, colleague and architect Ruud van Ginneken walked around the Stairs Hall of the Faculty of Architecture at the TU Eindhoven as a student. Now the roles are reversed and he gives a lecture in the Stairs Hall himself. At the invitation of Cheops, the architecture study association, he will talk about his journey from student to architect. And about Broekbakema's vision and projects that he now works on daily.
CIRCULAR DESIGN
Ruud says: 'At Broekbakema we want to contribute to healthy working environments. People-oriented design and attention to themes such as sustainability and circularity are important.' These themes fit Ruud's own vision. 'In my view, every architecture student should throw themselves into circular design. By this I mean designing and realizing buildings without unnecessary depletion of raw materials, pollution of the environment and damage to ecosystems. In short, it is about designing for the well-being of humans and the biosphere, now and in the future. I am convinced that good architecture contributes to happiness!
PRACTICAL EXAMPLES
Three projects will illustrate Broekbakema's design vision in this lecture: office building FTOS Byondis Nijmegen, U-building KVL Oisterwijk and DSM HQ Maastricht. Ruud has worked on all of these projects. He talks about the reuse of existing buildings and materials, adaptive open floor plans, detachable facades and about how connections were sought with local cultural history. Topical subjects that students will certainly encounter in practice.
NEW GENERATION
'Special to walk through the corridors of the TU/e again. I have many fond memories of my student days. When you talk to students now and hear what they are doing, it is all very recognizable. And when you stand in front of a group of students like today, you realize that you are working on special projects. It was nice to share knowledge and get to know the next generation of architects through this lunch lecture. Who knows, maybe my future colleagues were in the audience. Thus Ruud.
Thanks to all participants and organizers | Cheops | TU Eindhoven | Ruud van Ginneken.
Want to know more about the projects discussed? Ask Ruud.