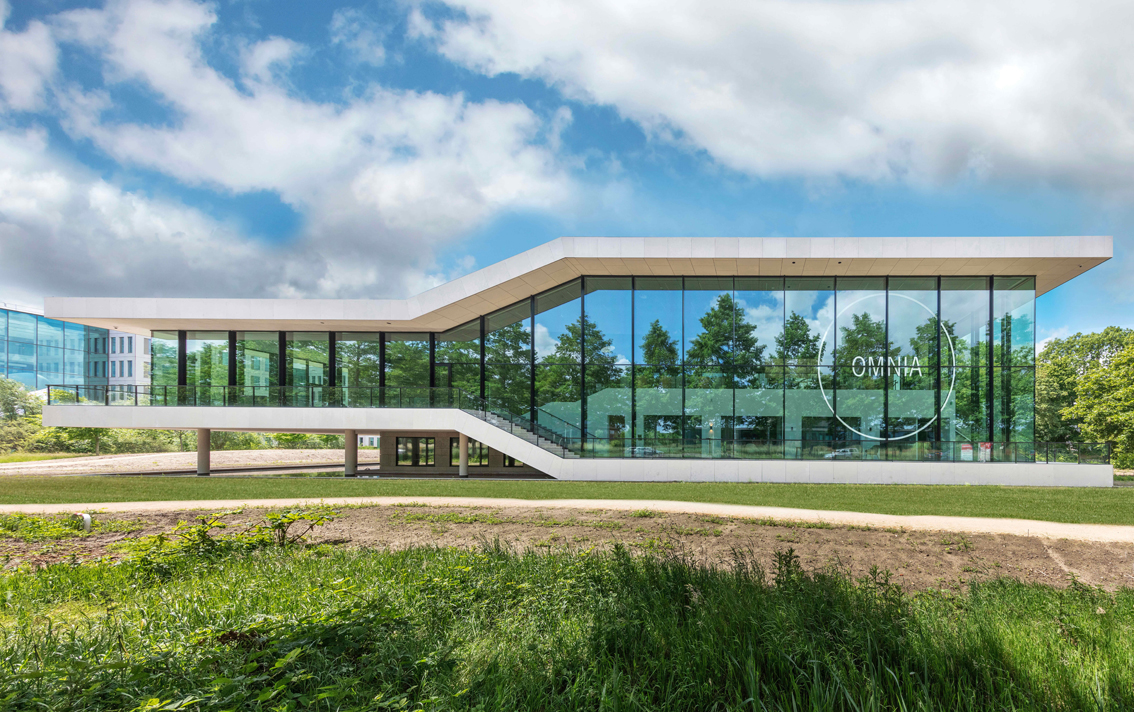 WUR Dialogue Centre
Wageningen, Nederland
2017-current
In close cooperation with the WUR, Broekbakema has designed the new Dialogue Centre as a 'Pavilion in the Green', on the level of a sketch design. The 'Pavilion in the Green' seems to be floating above the green park landscape. An inviting stair and slope are so to speak inviting you to come inside of the Dialogue Centre. The transparent and open entrance area is welcoming visiters and it provides an good overview. The floor and roof are horizontal planes that define space on the campus. The Dialogue Centre is framed in between as an inviting and transparent space that is searching for a connection with the surroundings.
The three main functions Dialogue, Promotion and Faculty Club are shaped in a recognizable way. The all have an independent wooden volume, that are combined with the other functions and they have a strong relation with the others. The large foyer offers enough space with a changing perspective that combines the three volumes of the Dialogue Centre with the surroundings.
The strong horizontal lines of the roof and floor are starting to move from the level of the Big Hall and give the Dialogue Centre its strong identity and striking look. On the location of the Big Hall, the floor moves downwards and touches the landscape. This creates space for a couple of lower placed break-out spaces and a toilet group, with on top the foyer as a balcony and outlet from the Big Hall. Around that hall and balcony, we lift up the roof, which makes sure you have a beautiful view from the balcony over the Mansholtlaan.
The floor and the roof continue to the outside and connect the exterior with the interior and every façade has a different position. On the place of the roof, the cantilever functions as solar screen and the cantilever floor creates a nice outside space and the outlet also connects to that.
Architects:
Erik van Eck MArch
Ir. Marieke Grimbergen
Ir. Sandra Sánchez de la Garza
Ing. Steven Schulze
Ing. Guido Hartman
Marc den Heijer MSc
Coordinator:
Ir. Inge van Zuijlen