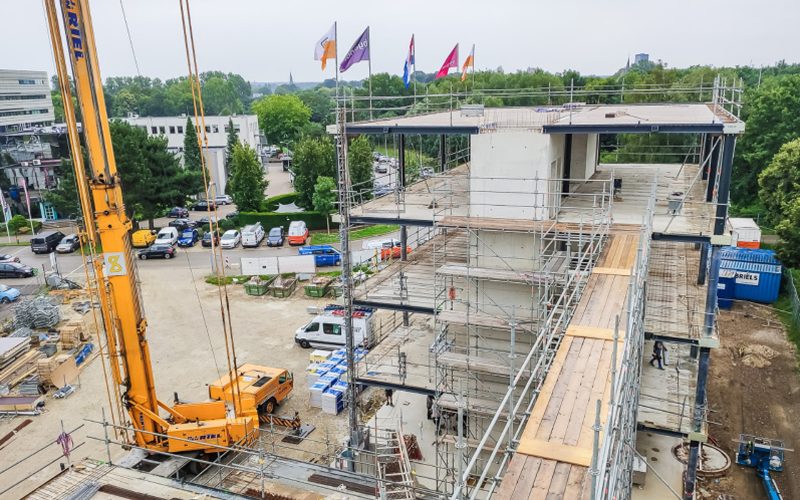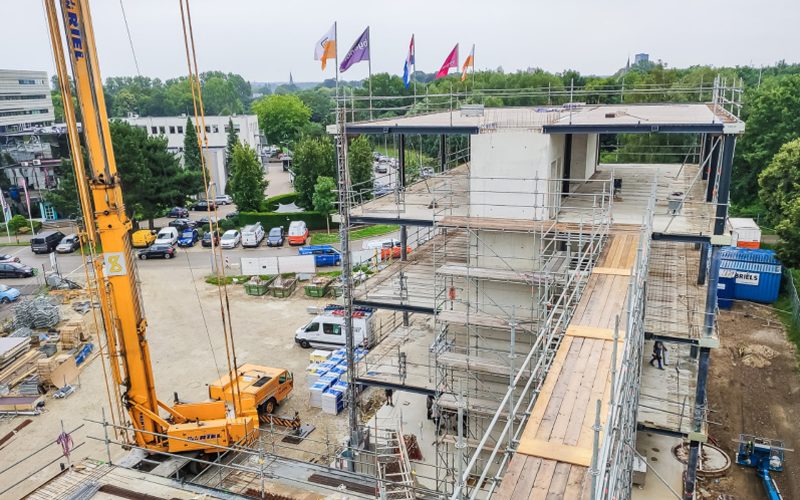 Construction of the new Fasttrack Offices of our client Byondis is progressing fast! The tallest point of construction was reached right before the holidays. The new office at the Byondis Campus will house 175 employees, who are expected to move in next year. This is the fourth building that we have designed for this green high-tech campus. And that feels like an extra milestone.
New-build
The new office has four floors. You enter through an atrium with much green and informal meeting points, containing indoor wooden terraces. The centre of the atrium contains a beautiful 10m tall tree. Both sides of the atrium allow for quiet and concentrated work and meeting.
Green work environment
The open facade and skylights provide for ample daylight. From the building a pretty view is provided over the green campus. Passive solar shading with vertical lamella's wrap the building in a highly insulated shell. Rainwater from the roof is infiltrated naturally in the surrounding landscape by means of wadi's. Additionally, later connection to a collective geothermal storage is provided for the building for efficient heating and cooling generation.
Community
The new office is situated along a historic lane lined with trees. This gives the building extra allure. We are already looking forward for the first reactions of the employees. If they directly feel at home and proud of their new building, our mission will have succeeded. We love to bring people together: it is all about the community feeling. That journey started twelve years ago.
Masterplan
That is when we started developing the masterplan for the Byondis Campus (previously Synthon BioPharamaceuticals). You can now see this vision sprout with every new building. What used to be a dull site is slowly transforming into a green oasis in this industrial zone of Nijmegen West.
Design
The new building will become the home base for Synthon, a company specialized in the development of generic human medicines. Synthon was split from Byondis earlier this year. Our design is the fourth building design we have built as part of the masterplan. Starting with the multifunctional research building FTOL in 2011, we afterwards also designed the ADC Cleanrooms (2012) and a testing location for antibodies in the mAb cleanrooms (2015).
Co-creation
The design of the Fasttrack Offices is made in co-creation with our clients Byondis and Synthon. We also collaborate with our construction team partners of Berghege (general contractor), Pieters Bouwtechniek (structural) and DGMR (building physics).
Click here to read the news item of Byondis and a video of the construction.