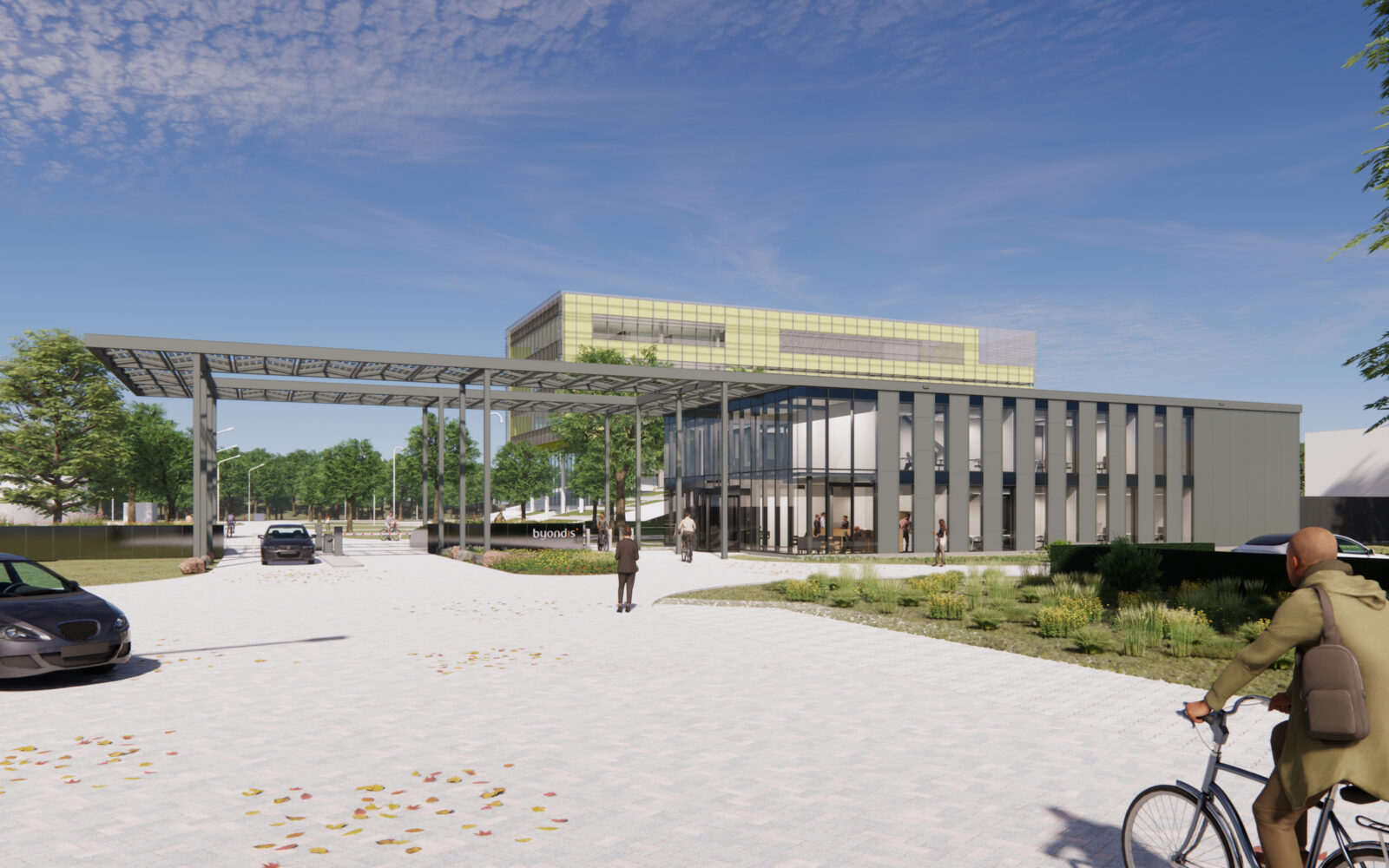 Byondis Porter's Lodge
Nijmegen
2021-heden
With the porter's lodge, the green campus of biopharmaceutical company Byondis in Nijmegen will have a new expression. The building will be more than an attractive entrance for visitors. From this central location, safety and security on campus will also be monitored.
Byondis is an innovative R&D company that develops medications against cancer and autoimmune diseases. Broekbakema has been working on the urban master plan since 2008. We are also constructing buildings in order to accomodate Byondis on the green campus. The Porter's Lodge marks the entrance to this special area with a generous canopy with integrated solar panels in the roof.
MULTIFUNCTIONAL
The Porter's Lodge has a generous reception area where visitors to the campus are welcomed in a warm atmosphere. Byondis and Synthon will soon welcome visitors to the campus here. It will be a place for meeting, getting to know each other and exchanging knowledge. The reception area is a pleasant place to stay with a reception desk, pantry and seating. The building also houses the offices of the Engineering & Maintenance (E&M) and Environment, Health & Safety (EHS) departments. From the building also takes place the coordination for maintenance activities, for this purpose it has a workshop at the back.
DESIGN
The overall composition of the building reflects the different functions of the porter's lodge in the facade. The campus entrance consists of a large canopy with solar panels, where pedestrians, cyclists and cars can enter past security. The reception area is two stories high. A transparent curtain wall provides the room with plenty of daylight. This gives the reception a good view of the entrance. In the offices behind it, floor-to-ceiling glass and closed strips alternate. At the workstations, this provides a good balance between daylight and energy performance. At the workshop, technical storage areas and bicycle storage at the rear of the building, the facade is closed.
BUILDING PERFORMANCE
Accents in the interior contribute to a warm, secure atmosphere. The office area has an industrial atmosphere, with the construction and installations in sight. This saves material and the thermal mass of the structure provides a pleasant indoor climate. Thanks to the design of the Porter's Lodge, visitors can be welcomed in a BENG-compliant building – with a full PV canopy, efficient air-to-water heat pump, high-quality insulated façade and use of thermal mass.
Architect:
Ir. Aldo Vos
Ir. Ruud van Ginneken
Ar. Ir. Okan Turkcan
Project coördinator:
Ir. Marc den Heijer
In collaboration with Pieters Bouwtechniek, DGMR, Bouwbedrijf Berghege, Verstappen van Amelsfoort and Gabriëls.