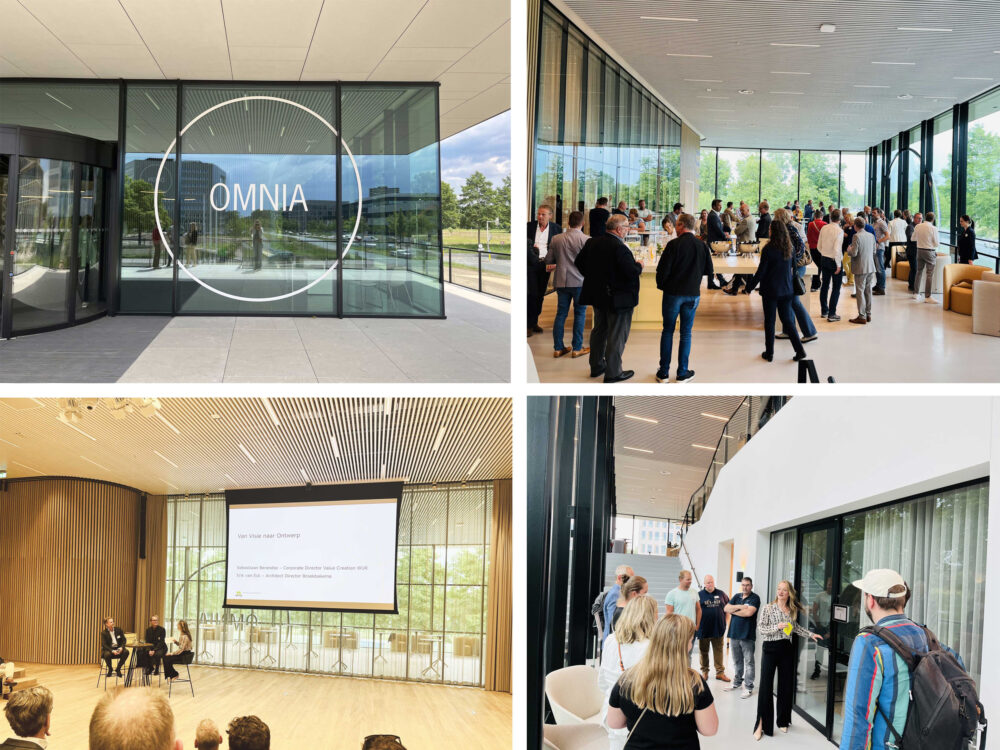 With building Omnia, Wageningen University & Research offers a new place for dialogue between scientists, society and experts from the world of food, health, biodiversity, circularity and climate. We attended the festive afternoon that WUR organized for its building partners on the occasion of the opening. A great opportunity to take an immediate look with our project team.
JUST THROUGH THE BUILDING
With an enthusiastic group of colleagues we walk onto the campus. Omnia is in a prominent spot right in front and seems to be lifted up above the landscape. A floating pavilion with space for nature everywhere. We walk down the expansive staircase musing into the building and are immediately calmed by the natural surroundings. Exactly as this entrance is meant to be.
Enthusiastic reactions
Omnia manager Chris van der Kreij also received that enthusiastic response from the very first moment when the building opened in May. 'Everyone I talk to is impressed with the great atmosphere and the sustainable appearance. (…) We are proud that the WUR on the Wageningen Campus now offers such a place'.
WHAT A REST
Colleague and architect Marieke Grimbergen is equally enthusiastic and collaborated on the design in the early stages. 'Very nice to see the end result of all the design choices and how the building now feels. 'The tall spaces, natural materials and large windows create a sense of calm. It is clear that the building offers a feel for elements of nature in many ways. That was also the commitment of colleague Erik van Eck with his design of Omnia: 'Nature is a very important source of inspiration for me. You can't design more beautiful than that nature, as I sometimes say.'
IDEAL PLACE FOR DIALOGUE
We walk through the corridors of flowing wooden forms a moment later to Room Podium. The 272 chairs are arranged in a semicircle, a perfect setting for dialogue. In the program that afternoon, the WUR looks back on the design, realization and construction with everyone. Architect Erik van Eck talks about the philosophy and realization of the design. As in Omnia, inspiring design is about continuous dialogue with all stakeholders.
We also hear the story behind the design of the wet nature garden and learn about caterer Hutten's inspiring take on food. It is nice to see that in addition to interviews and conversation, there is also attention to communication in the form of dance. The central floor lends itself to that as well.
NEW BEGIN
An opening of a building marks the end of an intensive collaboration between architect, contractor, suppliers and client. Countless people have put their heart and soul into the construction of the Omnia building. But more than an end, the opening marks a new beginning. Omnia is open, new collaborations and ideas will grow here. We trust that the building will provide all the facilities and inspiration for dialogue. We wish everyone many inspiring encounters!