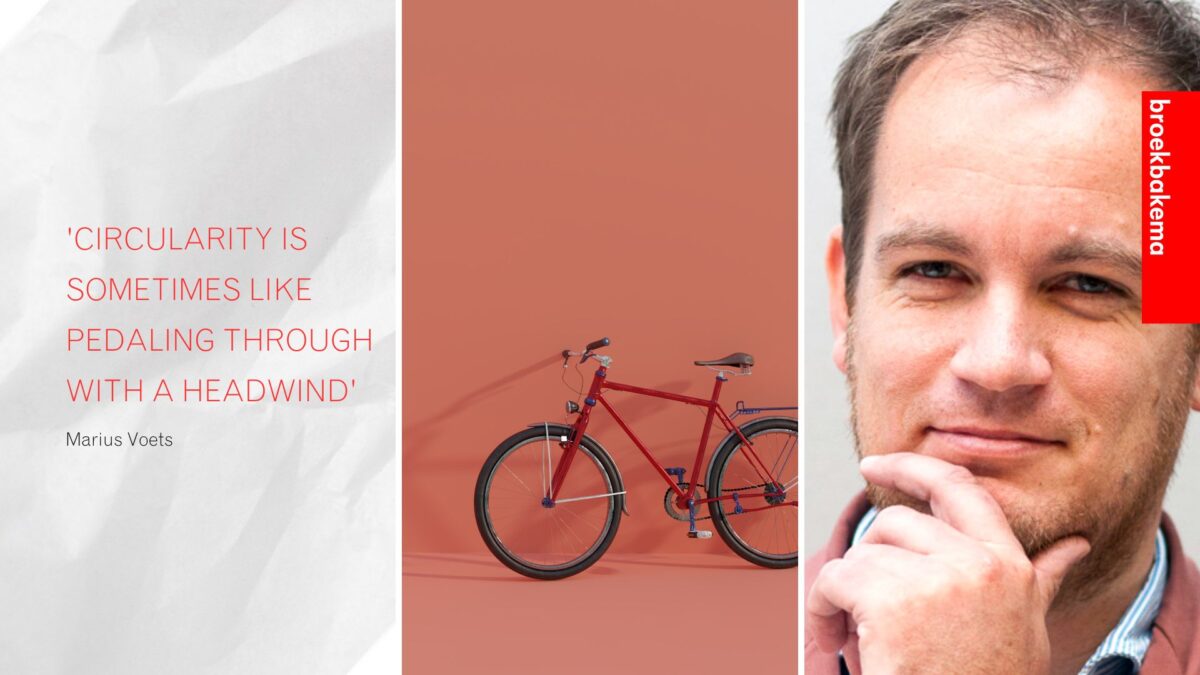 By Marius Voets:
I bike to the office every day, through all kinds of weather. Now this week my bike computer counted exactly 50,000 kilometers of rides up and down to Rotterdam. Let this be exactly the day I sat at the notary's office to formalize my new role as partner-director at Broekbakema. It didn't let go of me. How my world has changed since all those miles behind the bicycle steering wheel. Now, as a partner, I am also at the wheel at Broekbakema. I wonder what the world will look like after the next 50,000 km. As far as I'm concerned, every building in the Netherlands will be 200% circular by then.
A turnaround in construction
Of course I want to make a difference for the future of the company. Being a partner with Erik, Aldo and Renze is a fantastic challenge. But personally I especially want to make an impact on the transition to circularity in construction and the world of transformation. That change is very urgent. Too often we still work in the 'old' way while we as humanity have exhausted most of the raw materials. Every building of that is one too many in the next 20 years.
Quitting old habits
Don't get me wrong, I really don't have all the answers. But I am willing to learn by trial and error and by work. I hope everyone in construction and architecture signs up for that. We really are making history together now. I myself want to put my money where my mouth is on every project. I have been doing that for some time. It also means stopping old habits as much as possible, such as demolishing on autopilot. The new standard so to speak. Only then can circularity and reuse be fully integrated into transformation or new construction projects within 20 years.
Driven better world
Actually, it was all about this during my time at the MTS. That's when the penny dropped: I want to become an architect. This way I can contribute to a better world, I thought to myself then. I can still remember that feeling so well. Years of study followed, Saturday school too, and finally the Academy of Architecture. A dream came true. Although the title of architect did not come my way, I never regretted it for a second. The fact that I have felt at home at Broekbakema for so long is no coincidence. My colleagues have the same drive, also for a more beautiful world. We share the same values and vision of the future with an eye for people and relationships. To build a better world together – in co-creation. Believe me, that really isn't a paper reality with us. It is lived through and realized. And that felt like coming home on day 1.
Transformation for well-being
During my studies I already had something to do with the well-being of people; my graduation project was also about it. To me, when you think of people, you automatically think of their health and sustainable solutions. Take wood. The smell alone does so much to you, it has something soothing. If you realize this, then you are going to show the wood in your design so that the user enjoys the full benefits. Human-centered design is so much more. We like to feel ourselves as individuals part of a larger whole. Of that, history and historicity are also part of it; without a past, there is no present. A good transformation provides room for that history and space for new sustainable functions – ready for the future. I am proud that our transformations for Blijdorp, Elevator House and ABN AMRO show that this is possible.
Working together on dilemmas
Clients are pretty quick to have a firm level of ambition when you ask them about sustainable and healthy buildings. But then, how do you actually tackle this? For me, this starts with concretely naming the basic principles of a building design. Circular building also means taking risks and facing dilemmas together. This requires an honest and frank conversation between client and architect. That is perhaps the most important part of our collaboration. So that difficult choices during the building process are made easier in favor of greater sustainability.
Pushing on in the face of adversity
As I write this, I see the surprising similarity between the challenge of circularity and transformation and my passion for cycling. If you only look at the risks of cycling you may never get on. But if you bend with the curve and keep pedaling in the face of headwinds, you'll get there. Similarly with transformation, let's bend with the curve and keep going. On your own you won't get there, but together you certainly will. I have confidence in the future, do you?
Marius Voets
Architect Director