Innovative integration of installations and construction
Surrounded by greenery in a quiet residential area of Lisse is the Integraal KindCentrum (IKC) De Bollenstreek. This unusual wooden school houses special primary education, youth services, an after-school childcare facilities and two gym halls. By cleverly integrating the installations and the supporting structure and paying a great deal of attention to detail and finish, a safe educational environment has been created that matches the experiences of the young users.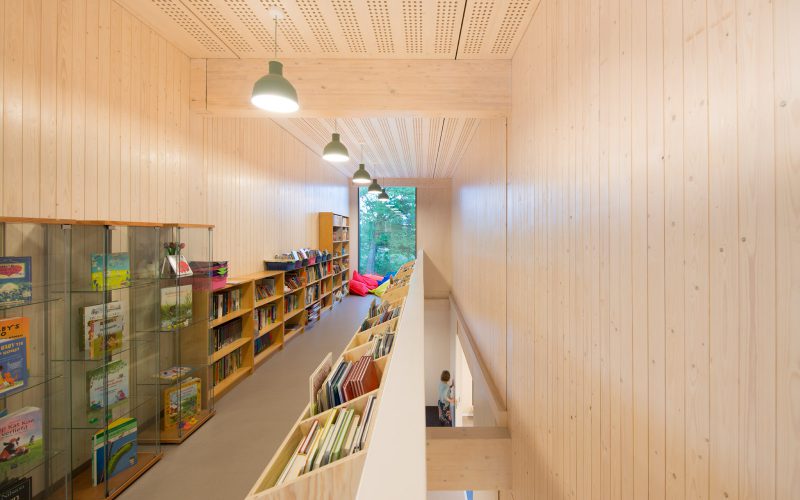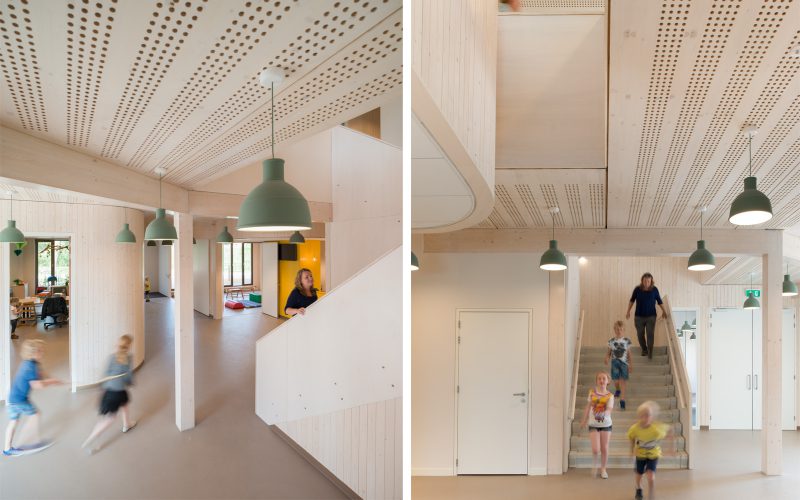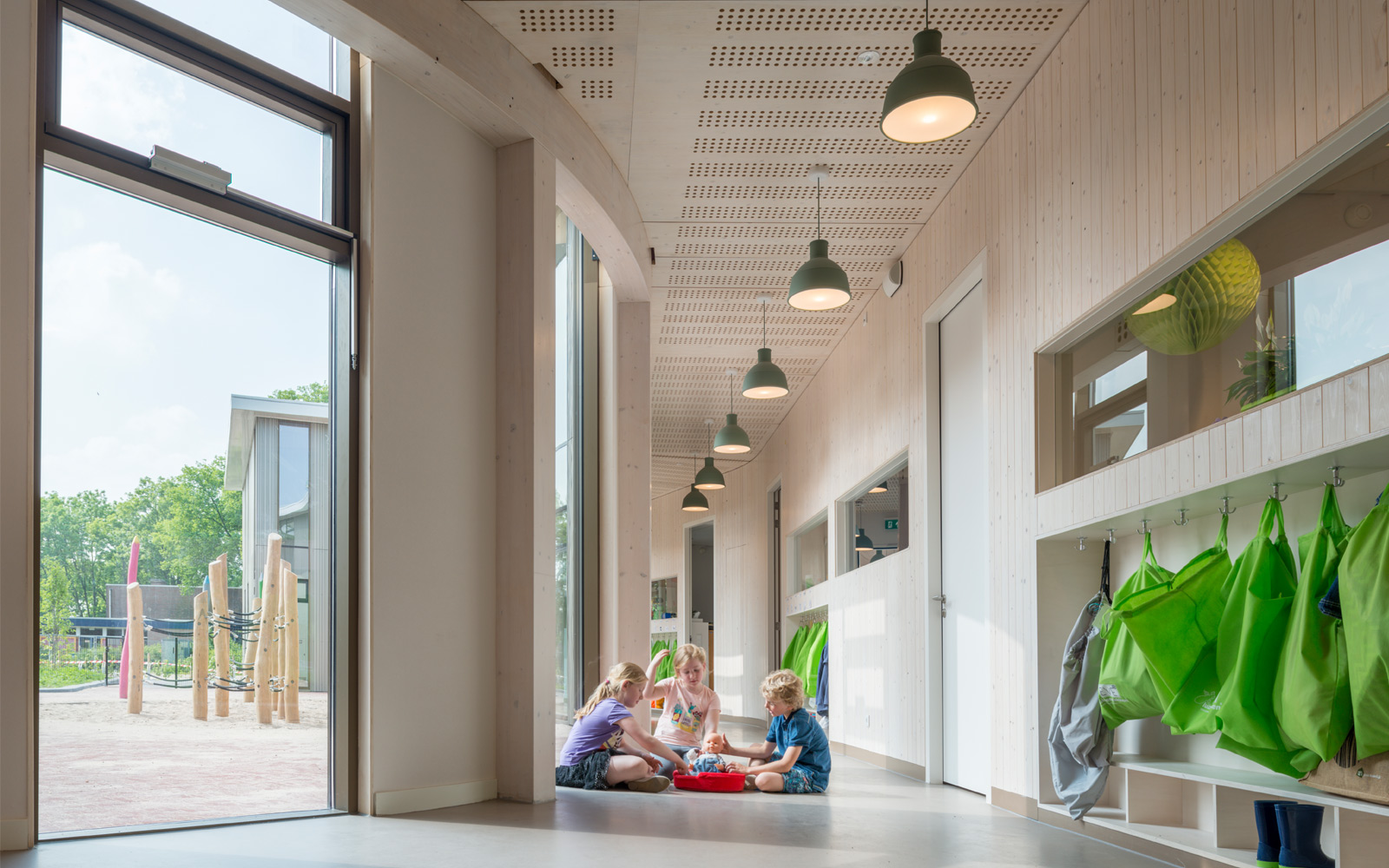 Special education requires special design
Visual peace and security play a major role in the design of IKC De Bollenstreek. The timber school is located at the edge of the Poelpolder and is surrounded by greenery and water. The horseshoe shaped building embraces the schoolyard where the students gather in the morning. The central corridor with a lot of glass ensures that there is social control of the entrance square in a natural way. The classrooms are oriented to the north; cool light without much fluctuation and shading benefits a low-stimulus teaching environment. The classrooms look out onto a beautiful row of trees on a dike and all have French balconies to enhance contact with the green surroundings.
In the communal areas, rounded forms and tactile materials have been used to suit the experience of the pupils. Because safety, tranquility and security play a major role in the design, a conscious decision was made to finish the building with as many natural materials as possible such as wood, wool felt and a cork cast floor. We avoided all forms of 'noise', both acoustic and visual, in our design. We kept contrasts in colors and materials as small as possible, opting for cool color tones.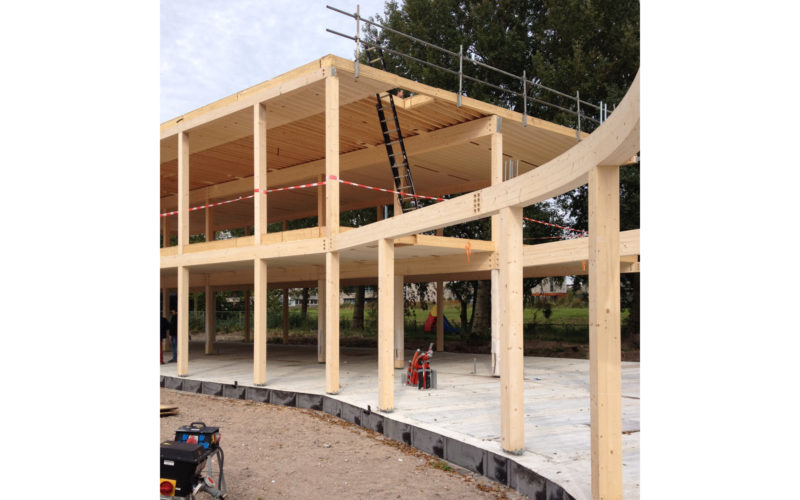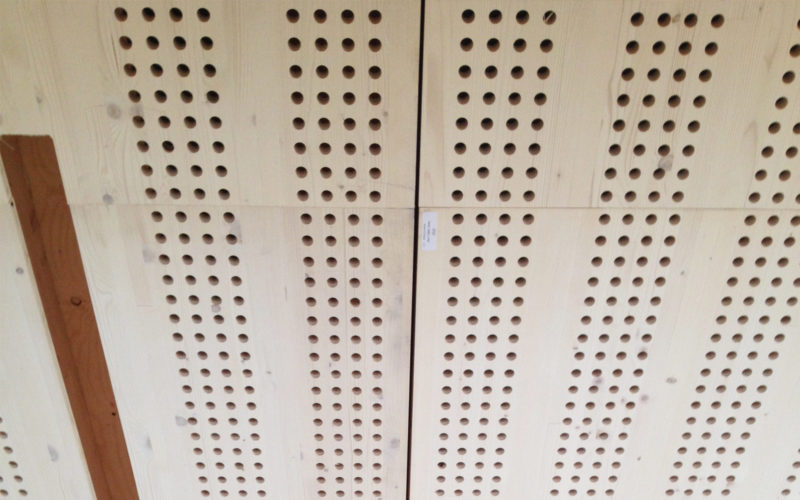 Self-designed unique wood construction
Not only the finishes are made of wood, but the entire supporting structure is made of timber as part of the concept. Due to the combined requirement to remain within the zoning plan (maximum height of 7m) and to achieve Fresh Schools Class B (free floor height of 3.2m), a unique timber hollow core slab floor was developed together with Woodteq. This hollow core slab floor not only serves as a structural carpet pad, but is also functional in terms of acoustics, installations and lighting. The perforated base plate of the floor is also the finish. The full integration of lighting and air conditioning into the floor package creates a sleek and quiet wooden ceiling that offers great atmosphere and security.
Installations and Construction in One – Raw Construction is Finishing
The timber channel plate floors are dimensioned as thinly as possible. For acoustics and fresh air, perforations have been made in the base plate. In the case of acoustic perforations, the channels are filled from the inside with rock wool. Per classroom 18 perforated channels are used for acoustics and 2 for fresh air.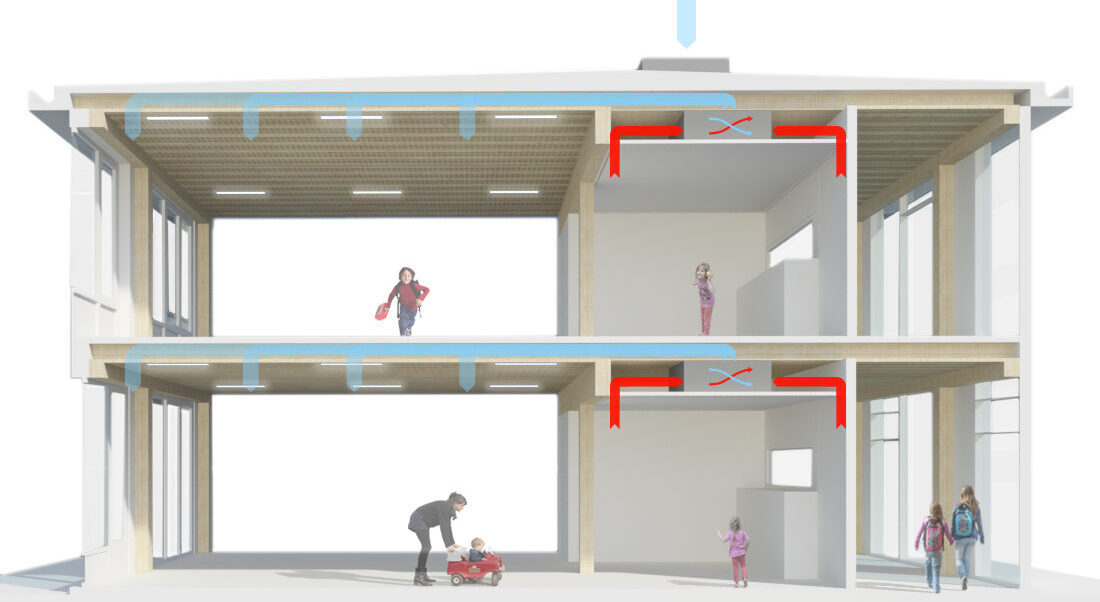 To avoid horizontal ducts in the wooden school, a decentralized air treatment system per room with heat recovery was chosen. In this way, only vertical shafts need to be built behind the toilets of each classroom to exhaust air to the outside. Supply takes place through the perforations in the bottom slab of the floor to the classroom. Air is extracted through a plenum in a small suspended ceiling in an area between the classroom and the corridor. This is where toilets, quiet work stations and consultation rooms are located. By orienting all classrooms towards the North, further active cooling is avoided: by incorporating underfloor heating and cooling into the screed, the heat demand is met. This system is linked to a heat pump with heat and cold storage (ATES) which drastically reduces the total energy consumption.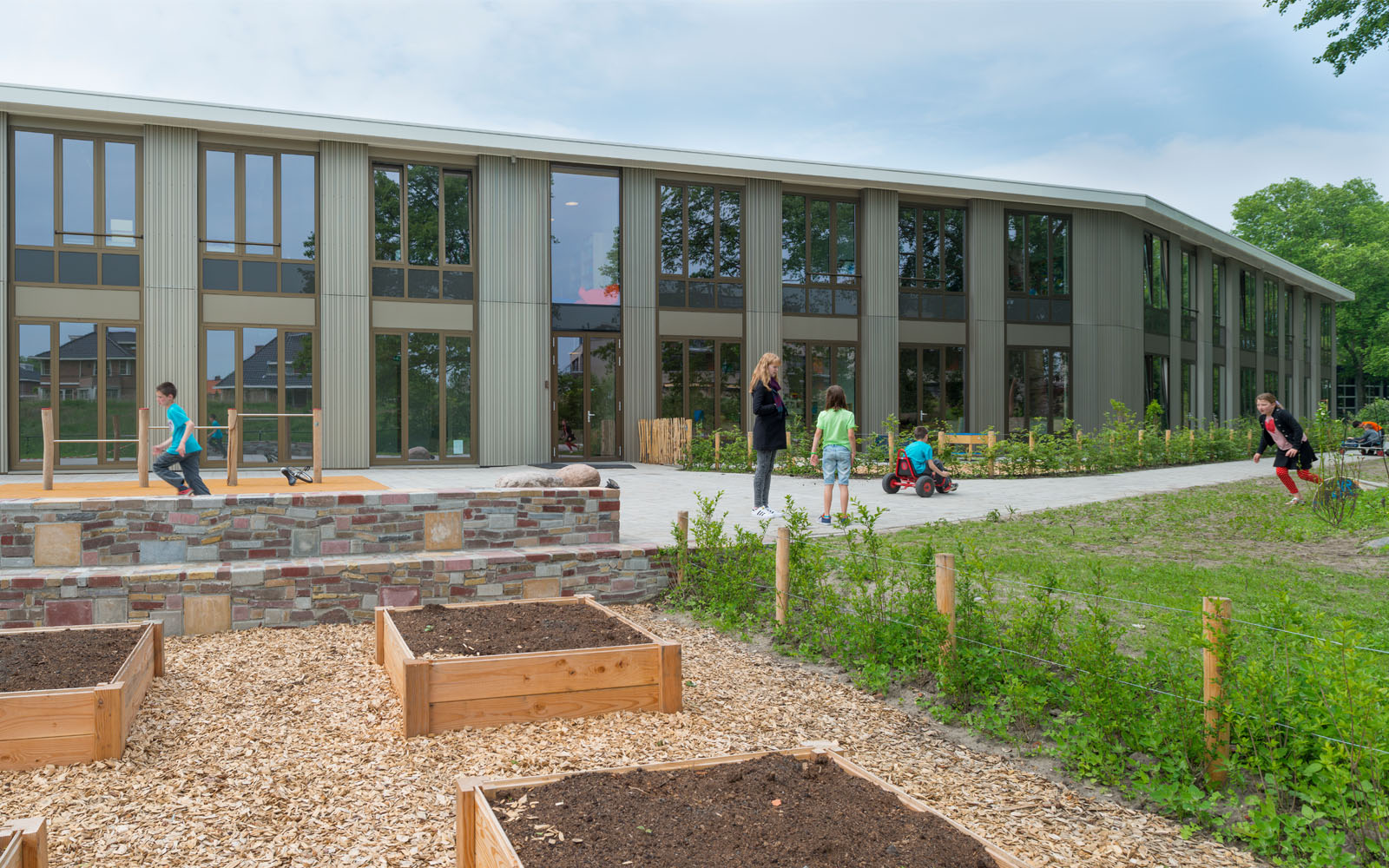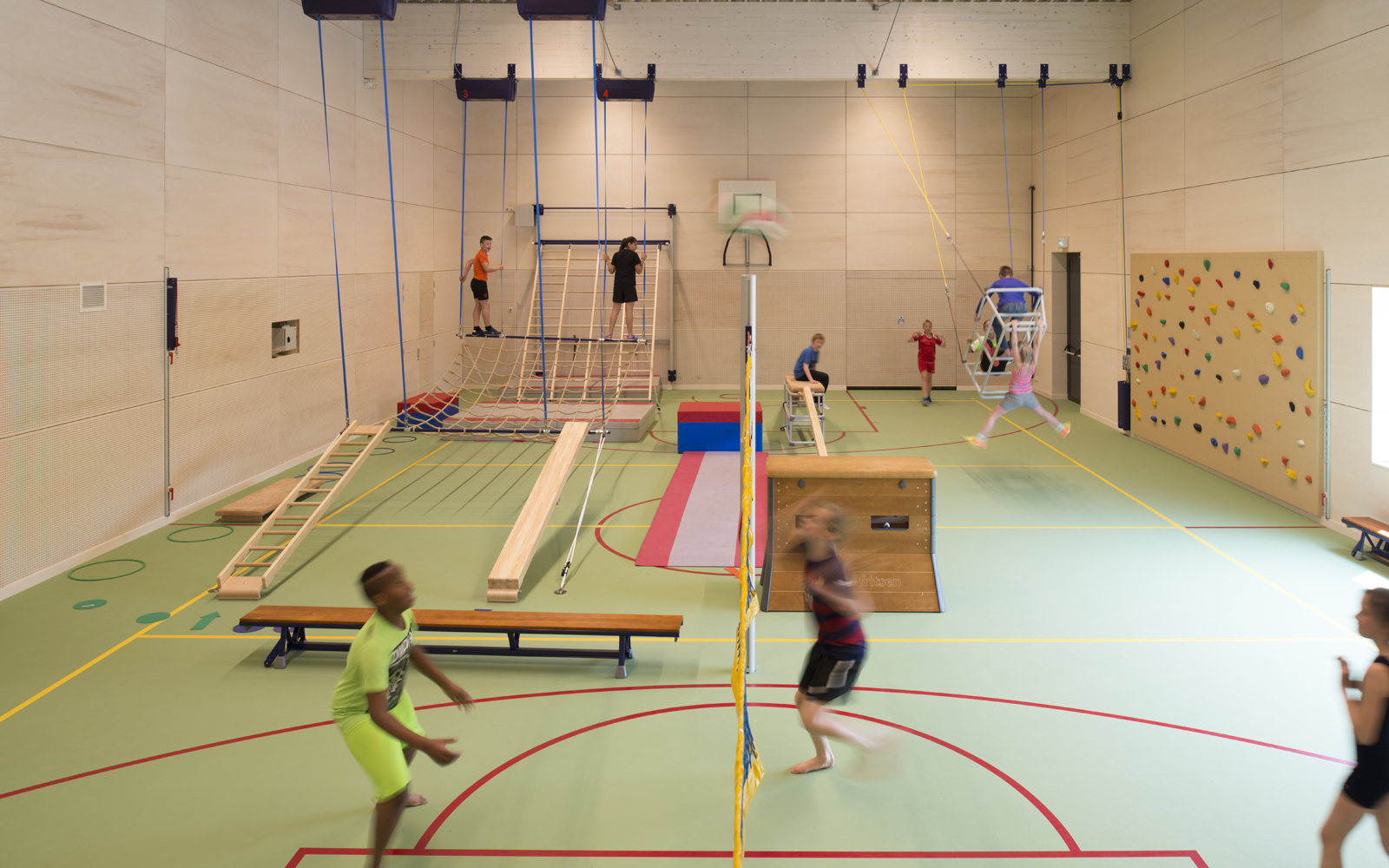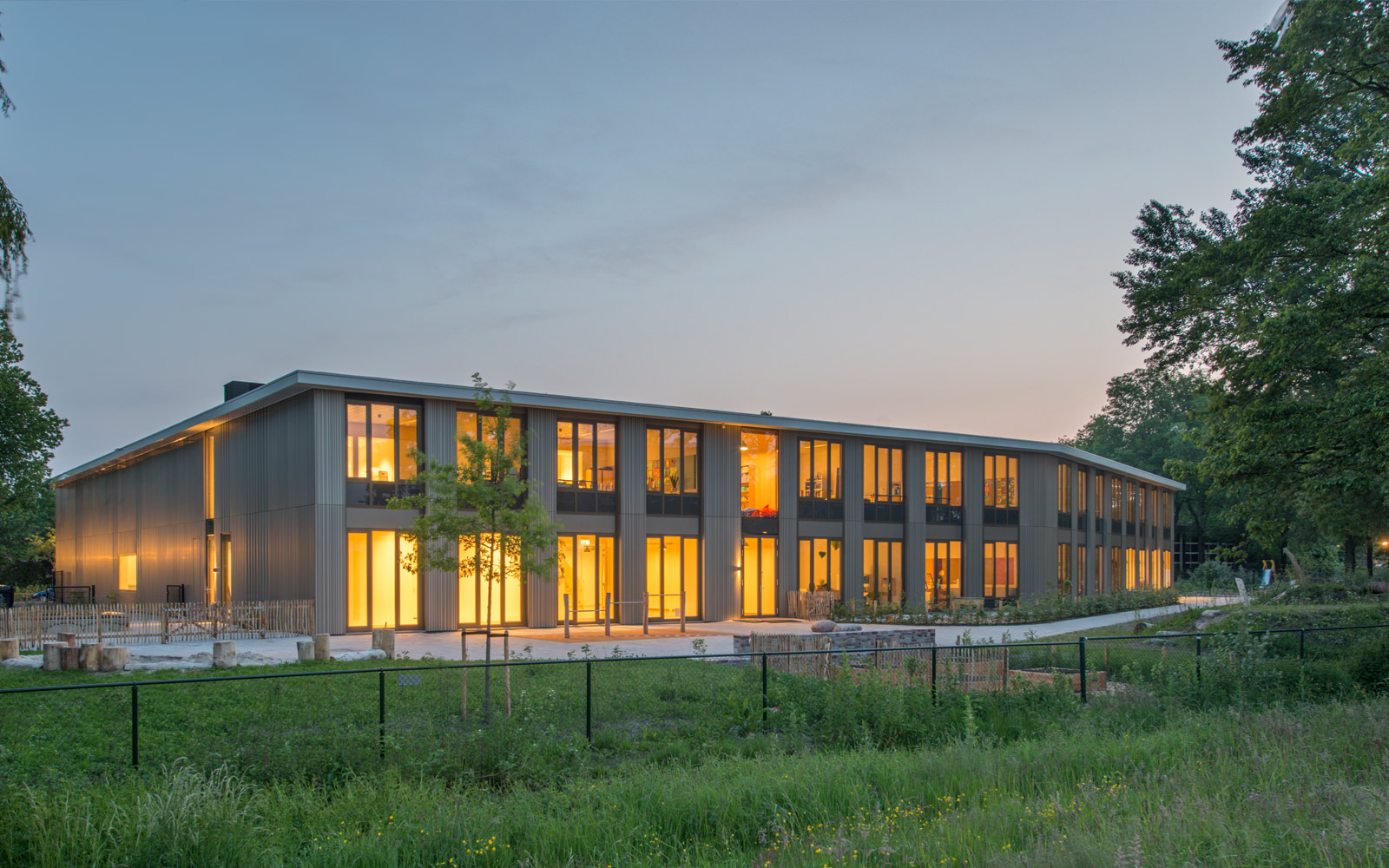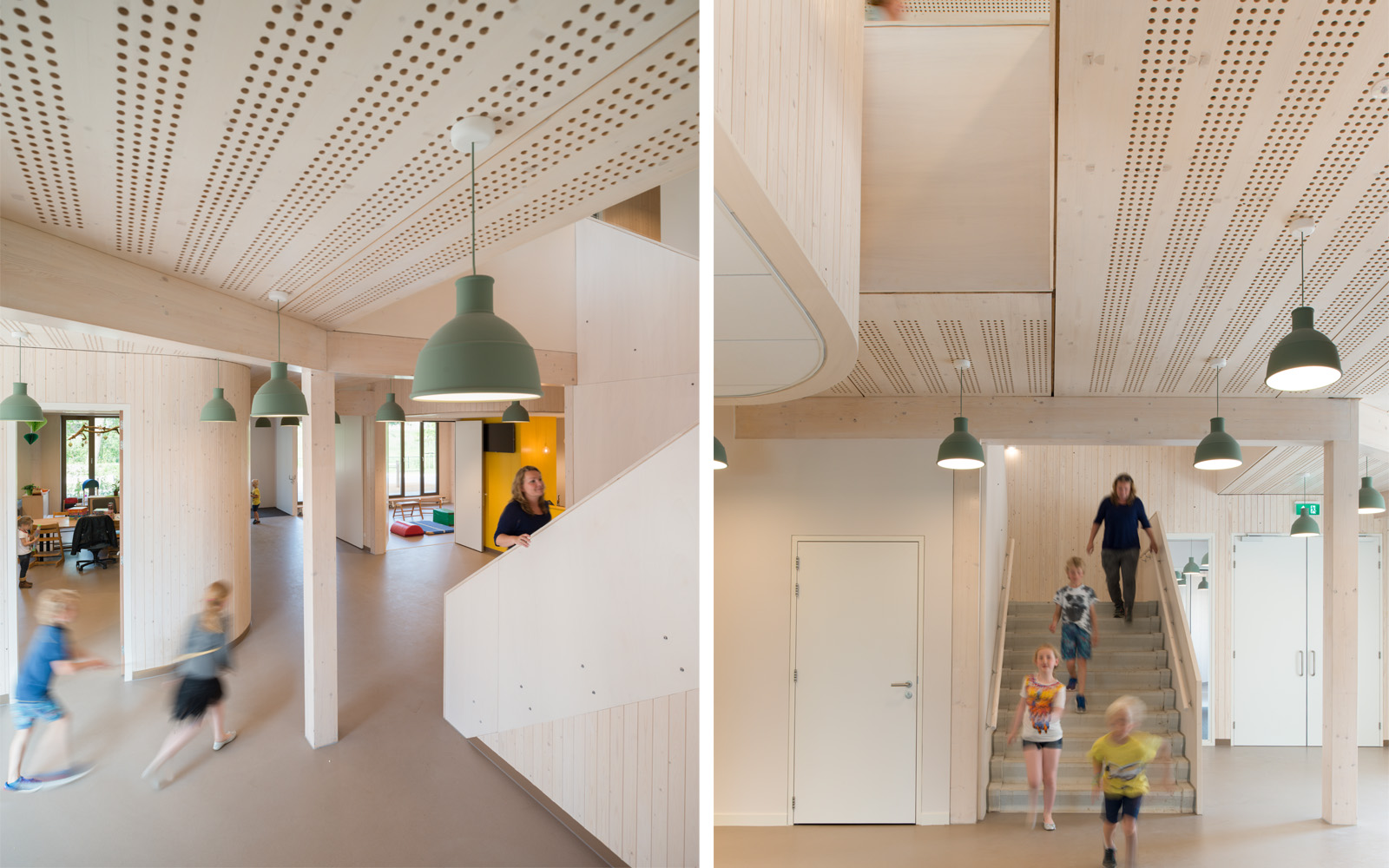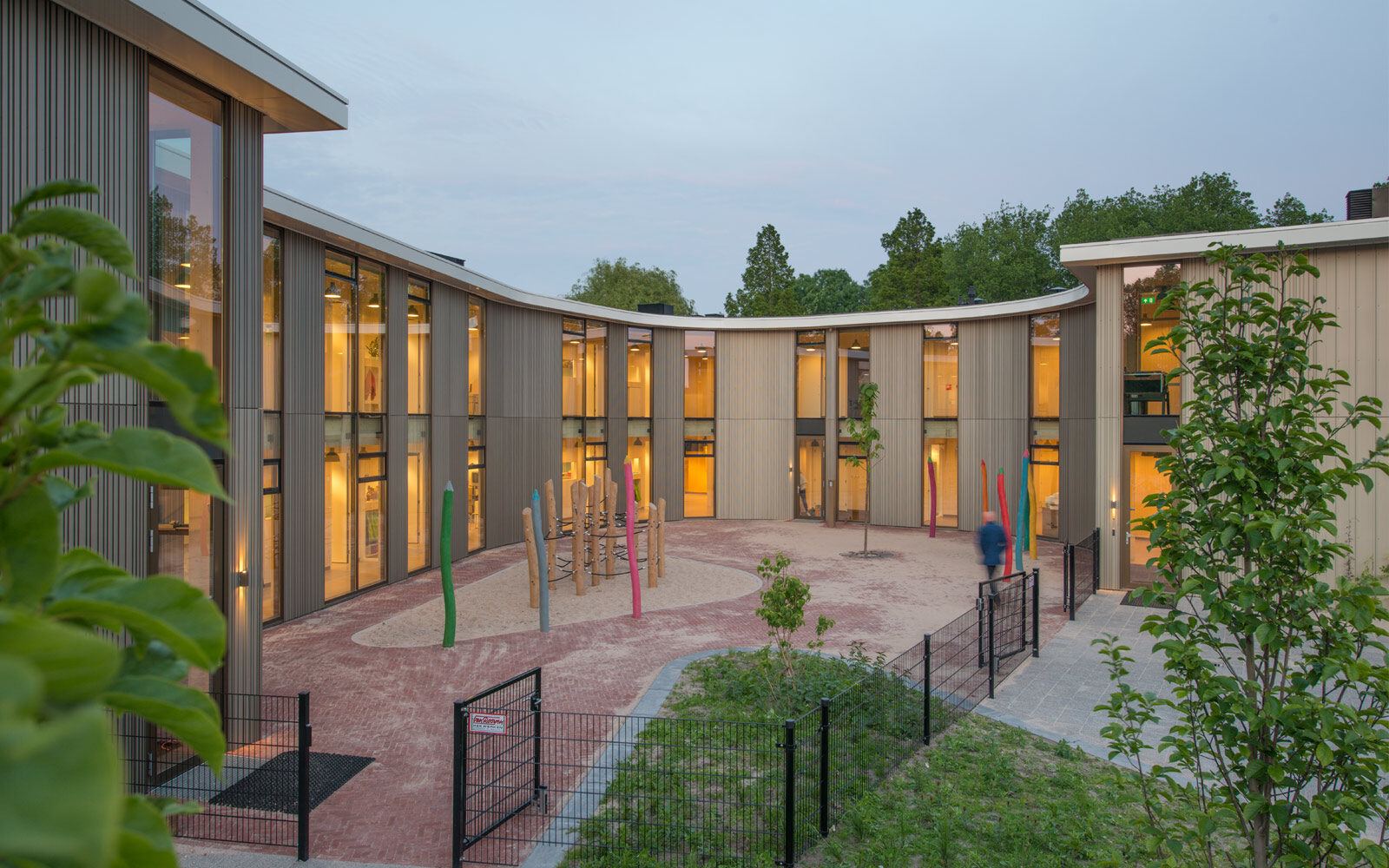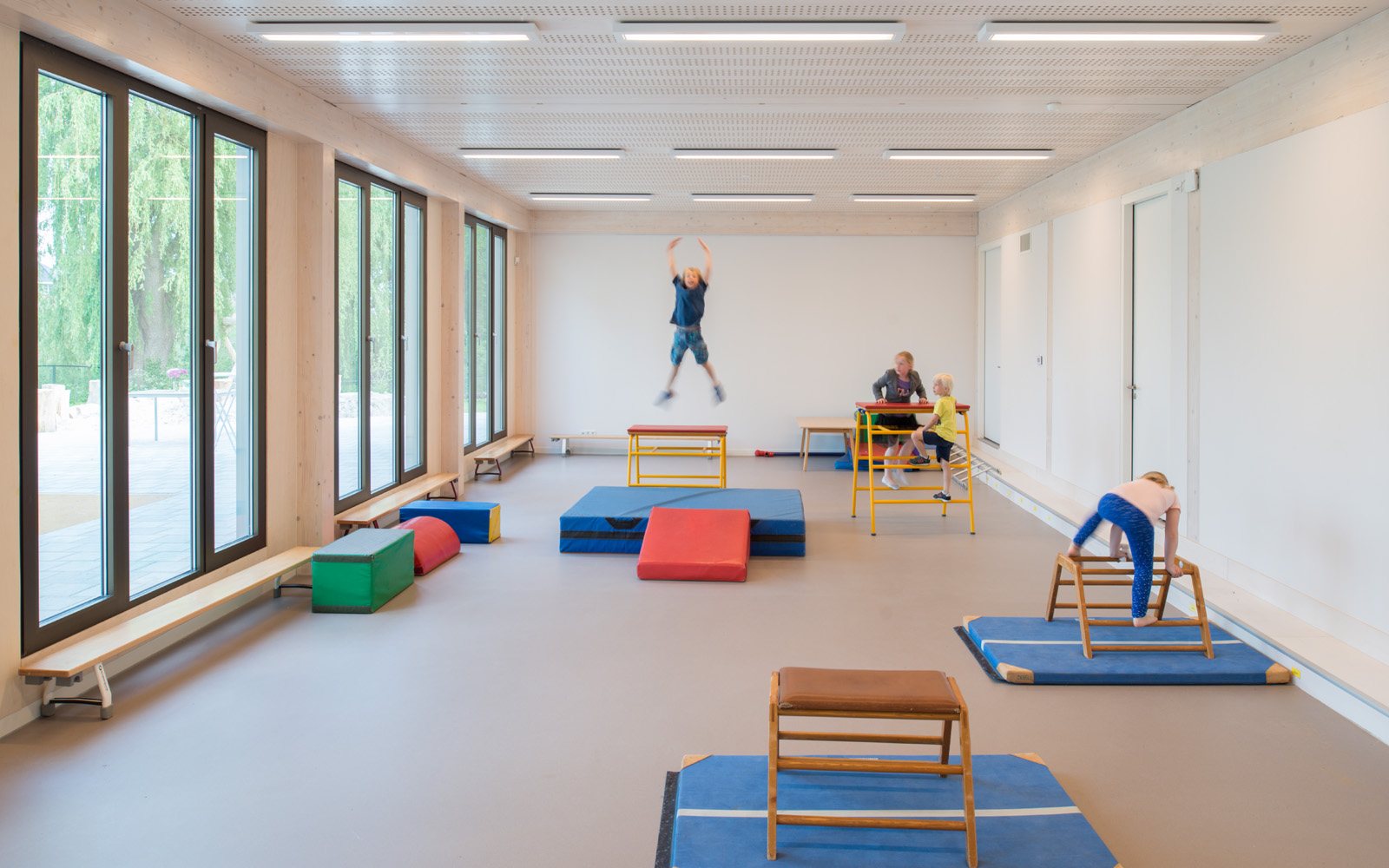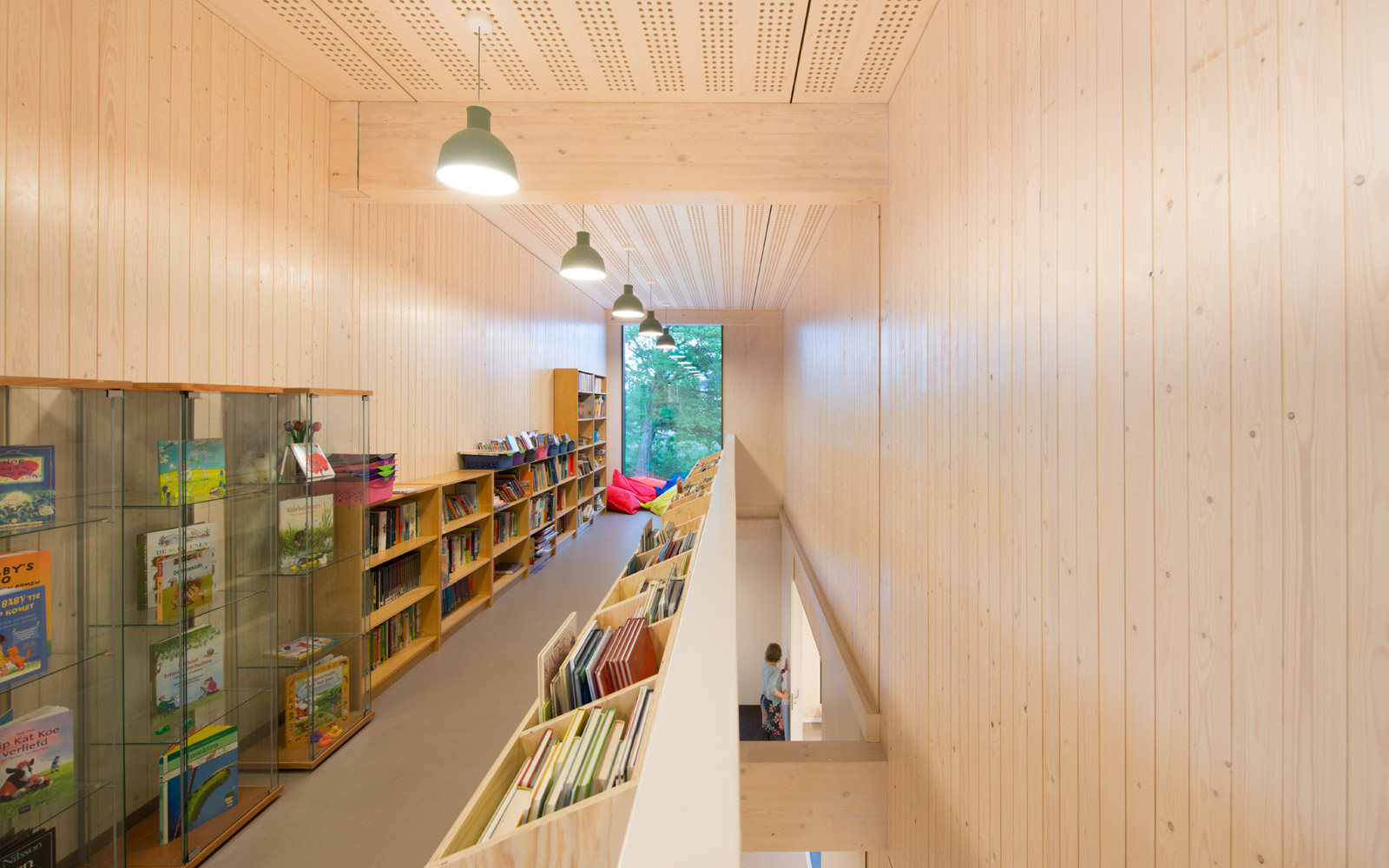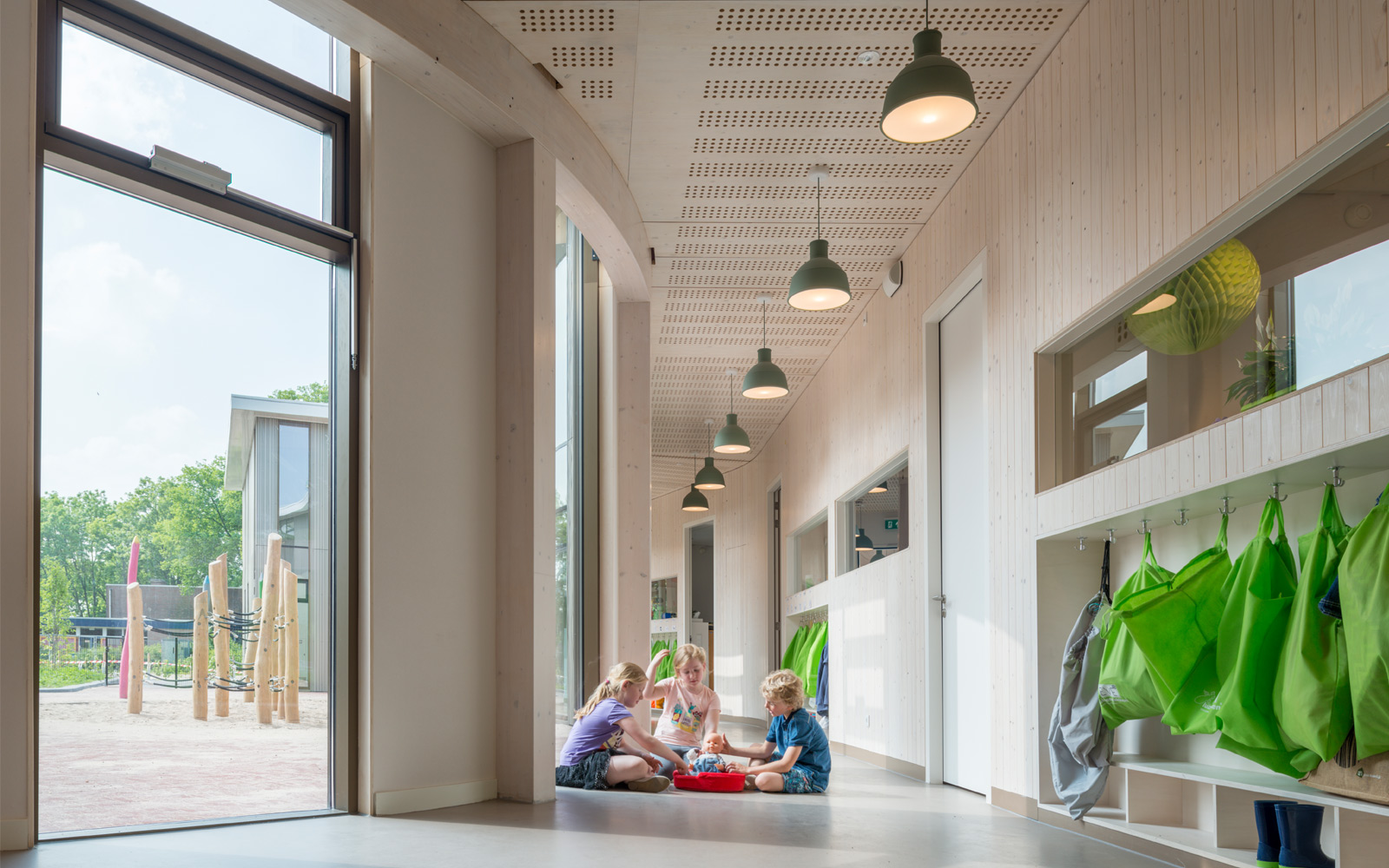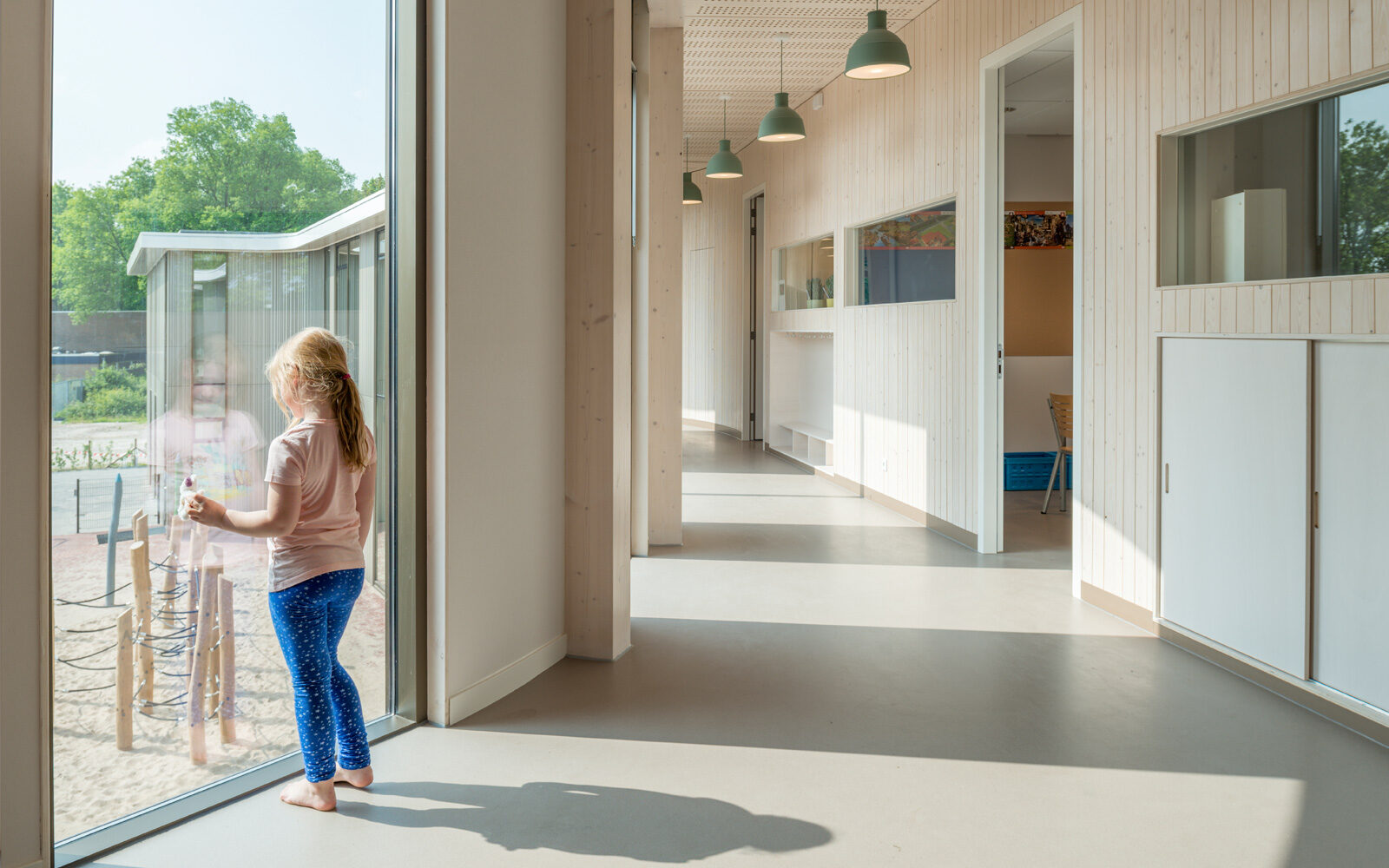 Project

Integral Child Center De Bollenstreek

Location

Lisse, The Netherlands

GFA

2500m²

Start Design

2014

Completion

2017

Architect

Ir. Aldo Vos; Ir. Tessa Barendrecht

Project Manager

Markus Freigang

Description

Multifunctional school including special primary education, youth help center, daycare and gyms.
Related expertises
We are proud of the fact that our clients identify themselves with our architecture and working methods. Our portfolio consists of exciting projects: from small redesigns to complex new buildings and complete master plans. We are known for designing high standard environments for education and research and for transforming monuments; for our involved collaboration and our self-evident use of sustainability measures in our designs and for our extensive experience with an integral collaboration process.